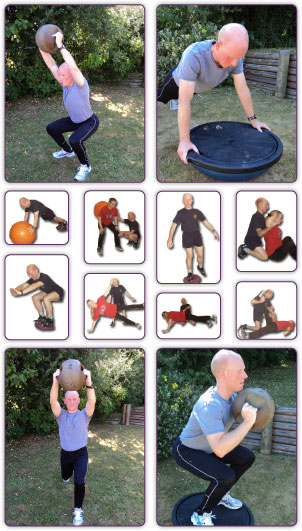 Photos
Welcome to the world of interesting and enjoyable training. You can see me trying to balance in a variety of different ways using a stability ball and disc. The reason behind this form of training, to be added alongside more conventional forms of exercise, is that it is much more stimulating for your nervous system and will greatly improve your balance and reflexes. This is important as better balance means greater strength - ever notice how strong gymnasts are? Increasing strength will help to protect you from injury not just in exercise but throughout everyday life.
This training is also much more fun, varied and enjoyable compared to everyday exercises seen in most gyms which actually hinder nervous system development.
As always any exercise programme must be safe, effective, progressive and enjoyable. You can also see in these pictures other balance/strength exercises - a ball or disc is not always necessary. In these pictures I am stretching my client after a workout. Partner stretching is a much more relaxing and effective way of stretching and is included as part of your session.
Disclaimer
Please note that none of the exercises or programmes listed are meant to be tried alone but only in the company of a qualified exercise professional. Failure to follow this guideline may result in serious injury.